Haunted Cannery Spook House & Lunatic Asylum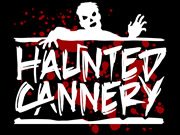 10001 NW US Hwy 77
El Dorado, KS
An experience that will haunt you forever! Located at Walter's Pumpkin Patch.
Take the open-air hay wagon through the country darkness past the cornfields...Caution while crossing the low-water bridge, as danger lurks around every turn. Once inside, trek cautiously through the abandoned 4-story grain elevator while the sites and sounds seize your very soul!
All tickets include admission to "The Hayride", "The Haunted Cannery" and Lunatic Asylum" Victims get aboard either the Haywagon or the "Hell Bound" Ambulance (RIP ticket) for the start of your nightmare adventure traveling down a long, winding, dark.,deserted road crossing over the low water bridge and cautiously heading through the corn and pumpkin fields.
Once inside the Lunatic Asylum maze, patients bang their heads and plead to leave the "hell" that they are in. If you stay in the asylum too long, you actually feel like you're going to go insane.
The Haunted Cannery is the ultimate fun house filled with horrifying music, clowns, chainsaws, zombies, spiders, vampires. werewolves and anything horrific that comes to mind. In fact, the cannery is everything found in your worst nightmare. Participants who pay extra for RIP admission get to experience the closed lid claustrophobia casket ride at the RIP MORTUARY. After the Hellbound ambulance driver drops you off there, victims take a horrifying close encounter to dying and experiencing the underworld in that casket. (limit 2 corpses). But then you should start to worry. If the lid to the casket gets unlocked you will suddenly realize you have speed passed to the front of the line past all the other crazies getting into the Lunatic Asylum.
The flashlight corn maze is part of the combo ticket and kid friendly.
Email Haunt Owner
All photos and videos within this listing are the property of Haunted Cannery Spook House & Lunatic Asylum
Located at Walter's Pumpkin Patch www.thewaltersfarm.com From Wichita - via KS 254 & Kansas Turnpike Take KS 254 to the El Dorado entrance, go North to the El Dorado Lake Exit (Exit #76), then turn right (North) and go 6 miles on Hwy 77 to mile marker #77. From Wichita - via KS 254 On KS 254, go east to El Dorado, turn North on Hwy 77 (Main St.) and go 10 miles north to mile marker #77. From Newton First Street (150th east to Hwy 77), go south 4.9 miles to entrance sign From Marion Hwy 77 south through Florence & Burns, 8 miles south of Burns From El Dorado Take Main St. (Hwy 77) North to mile marker #77
Email Verified

Pathetic Show

Pathetic show at this place! Super long lines, they didn't space out people in the house. We were seeing people in front of us to get a scare and then we anticipated and even see where the actor is! There weren't many actors and way too many special effects. The building and rooms were nice. But that doesn't make up for the lack of actors and scares. Downhearted and dejected!!

| | |
| --- | --- |
| Scare Factor: | |
| Fun Factor: | |
| Haunt Value: | |

Posted November 2017

Email Verified

Ultimate Fun

We had ultimate fun at the Cannery. It was like in a nightmare, racing down a long, winding, dark, deserted road to the corn and pumpkin fields. The four floor house is filled with terrifying music, clowns, chainsaws, zombies and all things horrific. The props were cool and realistic. The casket ride was scary, experiencing an encounter to dying and being locked beneath. Get the RIP ticket and encounter all of these first hand.

| | |
| --- | --- |
| Scare Factor: | |
| Fun Factor: | |
| Haunt Value: | |

Posted November 2017

Email Verified

Horror Experience

Visited the Cannery Spook house Saturday. The ambience was great and queue wasn't very long. It started with the wagon ride and actors were making noise on the go to create torment among us and we had a feeling of evil spirits behind us. Loved the 3D effects and incorporation of lighting effects as this was something unique we've experienced in the recent time. All actors and actress were just amazing and never left an opportunity to scare us. Overall, a well-organized event and life-long horror experience to carried forward. We loved it and definitely visiting next year too

| | |
| --- | --- |
| Scare Factor: | |
| Fun Factor: | |
| Haunt Value: | |

Posted November 2017

Disappointed

Too long a wait for nothing fruitful got us all disappointed. We blinked through the haunts and ended up not being scared. A lot of us pay for such attractions with the intention of getting frightened especially during the Halloween season. But this place did not let that happen. It was more like a Christmas carnival for kids.

| | |
| --- | --- |
| Scare Factor: | |
| Fun Factor: | |
| Haunt Value: | |

Posted November 2017

Blown Away

We are blown away by the innovative set design and concept of this house. Amazing actors in scary costumes, especially the joker was damn good in scaring us. Impressed by the special lighting effects and make-ups of monsters and hayride was executed very well. We screamed, banged, jumped, shouted so many times and one of my friend felt like losing the voice. Overall, A+ unique haunted show and we are looking forward to such new concepts again next year. Highly recommended!!

| | |
| --- | --- |
| Scare Factor: | |
| Fun Factor: | |
| Haunt Value: | |

Posted November 2017

Incredible Fun

The Haunted Cannery is always live in my memories as I went there with my husband to celebrate our first anniversary. We had incredible fun here with extraordinary facilities. From parking staff to ground management, everything was awesome. They were so well designed and shadowy creatures were keeping us running. This Halloween experience was very intense and magnetic. The experience was worth the money spent. Will be back for another show for sure.

| | |
| --- | --- |
| Scare Factor: | |
| Fun Factor: | |
| Haunt Value: | |

Posted November 2017

Email Verified

Awesome Experience

Awesome experience. It was fun and frightening. Highly skilled professional actors and special effects along with a unique background theme was more than enough to scare us like a hell. Excellent hayride and loved the ambience around the drive. Economical ticket price and perfect length. Thanks, Cannery for such a horror experience.

| | |
| --- | --- |
| Scare Factor: | |
| Fun Factor: | |
| Haunt Value: | |

Posted October 2017

Email Verified

Great Entertainment

One of my friends suggested this haunt. It was pretty crowded when we visited here. The outdoor entertainment had the horror movie show which was terrifying. The actors all did a great job in scaring us inside. Their makeup was creepy to say the least. I think it's not available on all days though. Parking facilities were good. The food was nice too. Ticket rates seem reasonable for the entertainment they offer.

| | |
| --- | --- |
| Scare Factor: | |
| Fun Factor: | |
| Haunt Value: | |

Posted October 2017

Crazy Place

Crazy crazy place this one was and we got our Halloween spirit vetted with good humor. It was a place for all ages. The kids had loads of fun chasing thieves in the pumpkin patch. The patch also had a non haunt maze for the kids which was great fun for them. The wagon ride was open air through the darkness in the cornfield, it was a thrilling memorable experience. The asylum was a maze with mental patients hanging around doing crazy stuffs. It was a four story house filled with fun and excitement. We all loved it and planning to visit again.

| | |
| --- | --- |
| Scare Factor: | |
| Fun Factor: | |
| Haunt Value: | |

Posted October 2017

Email Verified

Chilling Fun

If you are looking for outstanding chilling fun altogether, the Haunted Cannery is just incredible in all respects. This is the only haunted place I have been twice as it adds outdoor entertainment and new attractions every now and then to have striking scary fun. Spread in huge area, stylish actors, bright themes and props redefine this every time. I had so much fun there.

| | |
| --- | --- |
| Scare Factor: | |
| Fun Factor: | |
| Haunt Value: | |

Posted October 2017

The best haunt I've experienced so far...

I've been to nearly a dozen different haunts in Kansas and none of them have been as fun as this one! Looking forward to going back!

| | |
| --- | --- |
| Scare Factor: | |
| Fun Factor: | |
| Haunt Value: | |

Posted August 2016

3 out of 3 found this review helpful
All information on this page was submitted to Kansas Haunted Houses and was believed to be accurate at the time it was posted. Please report any inaccuracies
here
.