Low Budget, Last Minute Halloween Costumes That Will Look Scary-Good Without Breaking the Bank!
Home » Blog » Kansas's Local Halloween Fun Guide, Halloween's Hottest Trends, Little Ghost & Ghouls Corner , Halloween Headlines
October 25, 2017 By Cait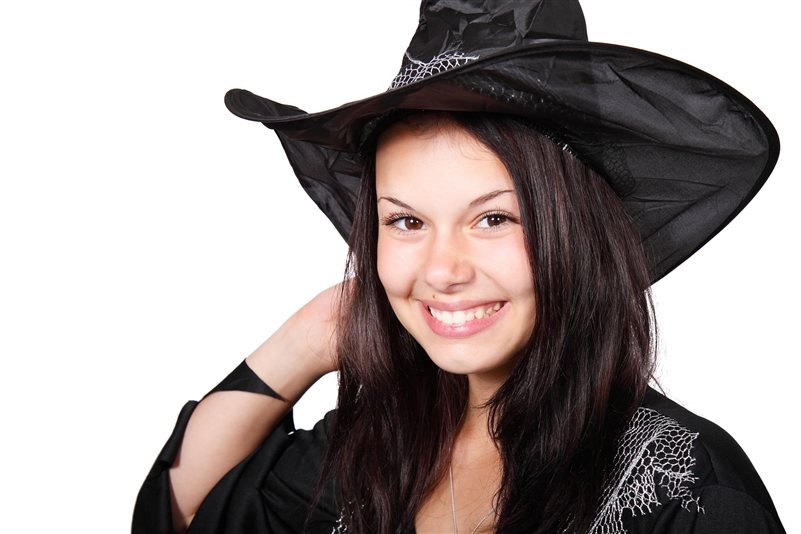 There's Plenty of Low Cost, Last Minute Halloween Costume Ideas That Can Come Out Super Cute!
Photo by:
Photo via PixaBay.
Halloween is less than a week away, and if you're still up in the air about what to go as this Halloween, don't worry - there's still time to whip up something that's cute, scary, satirical, silly, or kooky - bottom line is there's still time to put together a last minute Halloween Costume that'll turn heads without breaking the bank no matter what look you're going for this Halloween!
Witch - Witch Costumes have been a staple of Halloween for generations because no matter how late you're running, there's ALWAYS time to put together a witch costume on a shoe string budget. If you're going for last minute/low budget, dress in black paired with accents of orange, green, purple, or red, and top it off with a witch hat, and you're all set! If you've got a little more time on your hands, there's also numerous "Witch Makeup" tutorials on YouTube, and it's always a nice touch to grab a spooky looking broom to go along with your costume.


Zombie Bride - Have a white dress lying around? Have a few dark eyeshadow pallets? Then you're in business! This costume mostly focuses on face make up, so if you're a make up lover this costume is simple to pull off - check out YouTube for a ton of Zombie Bride make up tutorials. You'll also want to get a piece of mesh netting to make into a veil - you can get these at almost any craft store. Easy peasy!


Black Cat - Another Halloween Classic, going as a black cat is an ever-popular last minute costume of kids & adults alike! To pull this one off, you'll need a set of cat ears, and a cat tail, typically sold in sets at Halloween stores for under $10, and you'll want to dress in all black. Now, just because this costume is simple, doesn't mean it needs to be basic - you can wear lace, leather, or other cute black clothes that will keep you looking on-point this Halloween. You'll also want to pick up a waterproof, all-day-wear liquid eyeliner, to paint on your kitty whiskers and nose.


Crazy Cat Lady - Love cats, but sick of dressing up as one for Halloween? If you've got a bathrobe and a bunch of cat plushies, you're almost all set - pin the kitty cat toys to your robe, and add some old-school hair curlers to your hair for extra effect. Bonus points for having bunny slippers!


Charlie Brown Sheet Ghost - This one is simple and fun, and is an awesome throwback. Take a plain white bedsheet (or a printed one, if you're feeling silly), and cut out eye holes. If you're going to go for a Charlie Brown Look, well, then cut out far too many eye holes, and you're done! We'd recommend drawing half-circles, then folding your sheet over so that you're cutting out hole circles (folded) - this is the easiest way to get nice, round circles on your Classic Charlie Brown Ghost Costume.


The "Not a Costume" Costume - Not really into dressing up, but don't want to be called a spoil-sport this Halloween? Go with the "not-costume-costume", a growing trend among guys who don't feel like dressing up, but don't want to miss out on the fun. For this, you'll need a plain t-shirt, and a marker (any color will do!), and you'll want to emblazon your plain tee with a cheeky non-costume message, like "This Is My Halloween Costume", or "404: Halloween Costume Not Found" if you're a tech nerd.


Kid in PJs - If you're a parent and you've got some cute PJs, this one is easy - do your hair up in pig tails, draw on some freckles, and carry around the biggest stuffed animal you can find, and call it a day - you're a cute kid ready for a sleepover - done!


Scarecrow - Do you have a pair of jeans and a flannel shirt handy? Congratulations, you're halfway done with your Scarecrow Costume! To accent your look, you'll want to use face make up to draw a scarecrow patch on your nose, and a few other face accents - check out YouTube tutorials for this. Bonus points for adding on a floppy hat or a straw hat, and if you happen to have a crow figuring sitting around, be sure to plop that on your shoulder while you're at it!


Wilson from Home Improvement - Here's a fun throwback costume for you flannel fiends - Wilson, Tim's neighbor, from home improvement! This funny take on a 90s sitcom character has gone viral on social media, and is incredibly simple to make - all you need is a flannel, a bucket hat, and about a dozen popcicle sticks to make your very own tiny fence to cover the bottom half of your face (get it?!). Most renditions of this funny throwback have the tiny fence on a stick so that you can hold it in front of your face like a fan, and move it when needed.
Do You Plan on Going DIY This Halloween?
Have You Had a Simple DIY Costume That Was a Hit in the Past?
Let Us Know in the Comments Below!