Epic Halloween Costumes by Instagram Celebrity Pets
Home » Blog » Halloween's Hottest Trends, Little Ghost & Ghouls Corner , Halloween Headlines
November 6, 2017 By Cait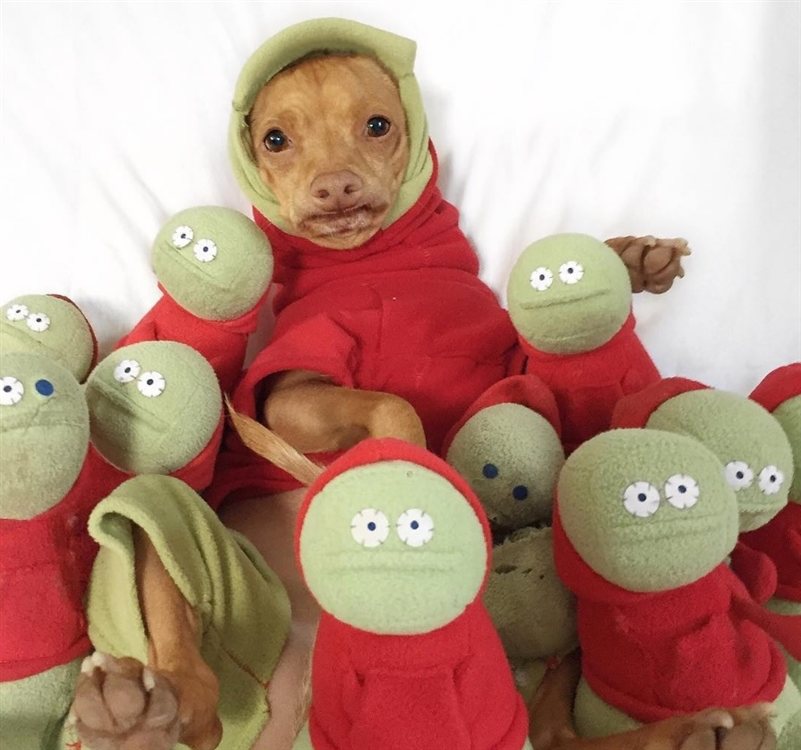 Tuna dressed up as his favorite toy Colin, and flanked himself with dozens of Colin Toys to blend in,
Photo by:
Tuna the Chiweenie, via Instagram.
One of the most fun things to enjoy in the weeks after Halloween is checking out all of the cool costumes by celebrities - and pet celebs - post holiday. And this year, they definitely didn't disappoint. If you're a pet lover on Instagram, you're likely familiar with at least some of these famous dogs, cats, and other pets who have a seemingly cult-like following, but even if you're not already a fan, you can't deny their costumes were cute this year!
Here are some of our favorite Halloween Costumes pulled off by Famous Pets:
Lil Bub - You might recognize Lil Bub as the tabby with the memorable flat face - he's become an internet and pop culture icon, and this year, the kitty dressed up as a Fortune Teller for Halloween, and he looked absolutely adorable!
Doug the Pug - Easily one of the most famous dogs on the internet, Doug the Pug kept it old-school this Halloween in a sheet-cut-out ghost costume - super cute!
Grumpy Cat - Grumpy Cat, possibly one of the most famous pets on the internet (he did have her own Lifetime Movie, and his own Cat Food Commercial, after all), dressed up as a Minion this Halloween, and let's just say....she's not exactly impressed with her human's choice of costume.
Tuna the Chiweenie - Tuna became famous for his adorable overbite, after he went viral in the "Phteven" (Steven with a "PH") Meme. This year, he dressed up as his favorite toy, Colin from Monster Factory, and surrounded himself with an army of of toy pals, definitely a cute look!
Noodle the Geriatric Pug - Noodle, an adorable pug that's know for being super old, and also super cute, dressed up a few times this Halloween. He was a Pumpkin pup earlier in the month, but he also was a fortune teller this Halloween, including for Bark Box's Happy Halloween message, and he did a great job of looking cute, that's for sure!
Did You Dress Your Pet Up This Halloween? Share Your Photos in the Comments Below!