Halloween Fire Safety: Simple Tips to Stay Safe This Halloween from the NFPA
Home » Blog » Halloween's Hottest Trends, Kansas Haunt News, Halloween Headlines
October 27, 2017 By Cait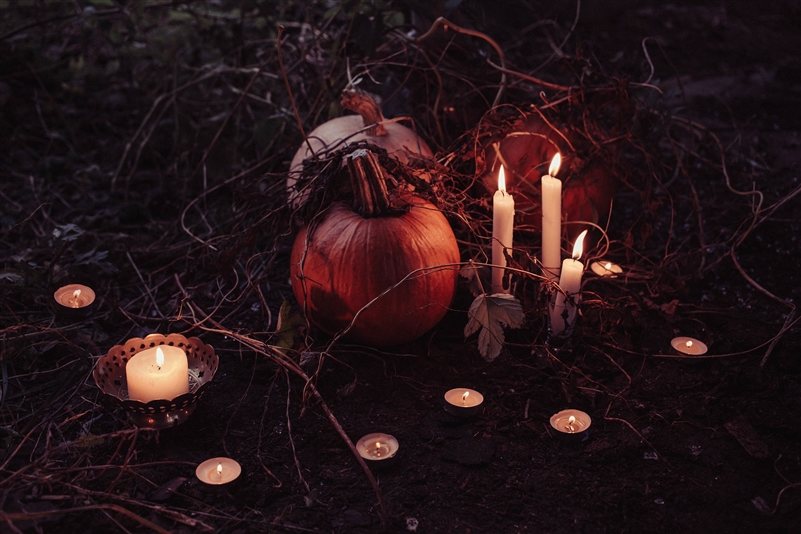 Skip the Real Candles & Go With Flameless Lights This Halloween to Stay on the Safe Side.
Photo by:
StockSnap, via Pixabay.
When it comes to Halloween Safety Tips, fire safety might not be the first thing that comes to mind, but the National Fire Protection Association, also known as NFPA, wants to make sure that fire safety is on your mind when planning your Halloween decor, costumes, and parties this Halloween Season. According to a recent NFPA study, Fire Departments reponded to an average of 840 house fires in the US during the Halloween Season, with their "Halloween Fire Season" typically kicking off with fires caused by decorations.
To help families stay safe as they get their spook on this Halloween, they've put together some tips & tricks for staying safe during the Halloween Season:
Stick With Flameless Candles - Jack'o'lanterns lit with real candles can be a major fire hazard - NFPA recommends that you utilize flameless candles or glow sticks to light up your jackolanterns this Halloween Season.


Be Careful Selecting a Costume - The NFPA recommends avoiding bulky costumes that can be hard to move in in case of an emergency, as well as costumes with long, flowy fabrics, which may be flamable. With many cheap costumes made of highly-flammable materials such as polyester, it's important to pick a costume that you'll be safe in in case of an emergency.


Know Your Exits at Halloween Parties - While we're all planning for the best, sometimes, unexpected things happen at Halloween Parties, and so the NFPA urges party-goers to know where the exits are at Halloween Parties & Gatherings this season. They also reminder those of us who will be throwing parties to make sure to keep decor away from doors, so that there's a clear path to exitways in case of an emergency.


Avoid Flammable Decorations This Halloween - In addition to recommending that you steer clear of real-flame candles in your jack'o'lanterns this Halloween, there are a few other Halloween Decoration recommendations that the NFPA would like to make: Be sure your decorations are positioned away from heat sources (such as radiators & heaters) and open flame, and do not cover lamps - light bulbs can burn through paper and sheer fabrics, turning your spooky ambiance into a nightmare.


Stay Visible - While this one isn't necessarily fire-related, it's definitely a good tip, regardless - the NFPA recommends kids take out flashlights or glow sticks to stay visible while trick or treating this Halloween.


Make Sure Your Smoke Alarms Are In Working Order - A fire safety tip that's useful year-round, this one is particularly important during the Halloween Season. With potentially flamable decor, open flames, and all sorts of potential hazards, it's important to make sure your smoke alarms are in working order this Halloween Season.
Have a Halloween Fire Safety Tip, or Other Safety Tip You'd Like to Share?
Let Us Know in the Comments Below!