Applebee's Introduces Dollar Zombie Drink
Home » Blog » KansasHauntedHouses.com News and Updates
October 2, 2018 By Victor K.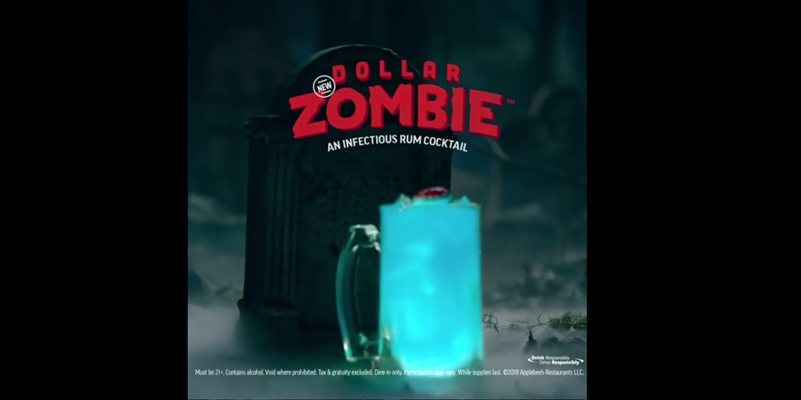 "Mind-Blowing Cocktail Will Make October so Good, it's Scary!"
Photo by:
Applebee's Neighborhood Grill & Bar
Applebee's has done it again with the introduction of new zombie drinks that will cost you just a dollar. If it was not enough when they blessed the nation with dollar margaritas, Bahamas Mamas, and Long Island iced teas at the same price point, the new editions will blow your mind.
The patron saints of affordable alcoholic beverages in America (Applebee's) have officially revealed their latest beverages under the Neighborhood Drink menu and already it seems spooky once you get to hear their names and what goes into them.
The Dollar Zombie is the new drink in town and should be the best to trick-or-treat yourself to if you're not buying for a friend. The phenomenal beverage is whipped up with the right amount of rum, passion fruit, pineapple, cherry, lime and garnished with gummy brain. If this does not spook you then missing out on the Dollar Zombie this Halloween should be your greatest fear.
Last season's Halloween saw Applebee's introduction of the $1 margarita also known as the Dollarita. This gave birth to the rotating menu of super cheap cocktails. They include the $3 Grey Goose and cranberry as well as the $2 Absolute Vodka lemonade.
During its unveiling, the VP of beverage innovation at Applebee's – Patrick Kirk invited viewers to an early spirit of Halloween by trying the Dollar Zombie in their Neighborhood Drink menu.
At the price point and at legal drinking age, grab a friend and drive down to any Applebee's location near you and taste the new Dollar Zombie!
Let us know in the comments below what you think of the NEW Dollar Zombie Drink!